IMPORTANT ANNOUNCMENT: If your child qualified for our Summer Camp Program, he/she received a letter of conformation on Monday. The letter must be returned to your child's teacher no later than Wednesday, May 21st.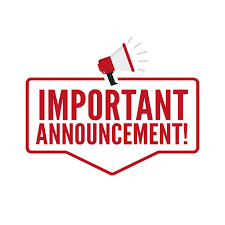 Job Opportunities ~ Working at GCSSD is exciting & rewarding! For the latest job opportunities go to
https://gcssd.mysmarthire.com/jobs/
(Use Google Chrome) Equal Employment Opportunity
SGCHS New Student Registration Location: SGCHS Media Center *To register your child, you will need 2 approved proofs of residence ( 1 needs to be a mortgage or lease and 1 needs to be a utility bill). Also, bring your child's transcript or report card and custody papers, if applicable. Tuesday, July 13, 2021 1 p.m.-6 p.m. Monday, July 26, 2021 3p.m.-7 p.m.

The Bass Fishing Team will hold an informational meeting on Monday, May 10 at 7 pm in the Media Center of the SGC High School. This meeting is for anyone interested in joining the South Gibson County Bass Fishing Team this next school year. We will discuss what is required to be eligible to fish and what you should expect if you are apart of the Bass Fishing Team. We have 2 classifications that fish, High School and Juniors. Please attend this meeting if you are interested in being a part of a growing sport in Tennessee.
SGCHS Awards Program for 9th-11th grades will be held on Tuesday, May 11 in the SGCHS gymnasium. Students, including DL, being recognized will be notified by their 1st block teacher. Family is invited and will sit in the home section of the gym. Masks must be worn and social distancing guidelines followed. Tuesday, May 11, 2021 9th Grade: 8:30am 10th -11th Grades: 9:30am Please Note: Students will sit in alphabetical order and stand when their name is called. All recognitions for that student will be announced at one time. Family in attendance may take a photo while the student is standing at his/her chair. Students will be dismissed back to class immediately after the program allowing us to prepare for the next program.
Parents/Guardians of Seniors: 1. Seniors received their caps and gowns today. 2. Seniors received 3 documents in addition to the Work Ethic certificate that provided various information such as final requirements for TN Promise, how to send their final transcripts, and information on graduation activities. Please make sure you review these documents. 3. Use this Google form to request handicap seating at the graduation ceremony. This form must be completed by Monday, May 3 in order to receive handicap seating at the graduation ceremony. Google Form:
https://forms.gle/FDvTNd34y4A7qBkC9

There will be a Senior Picture meeting on Thursday, April 22 at 6p.m. in the SGC Cafetorium. This meeting is for the members and parents of the Class of 2022. Important information regarding senior pictures will be shared. Please make plans to attend. Please note that in order to appear in the yearbook, ALL seniors must be photographed by Holland Studio. Again, please note the senior picture meeting is scheduled for Thursday, April 22 at 6:00p.m. in the SGC Cafetorium.

Senior Announcement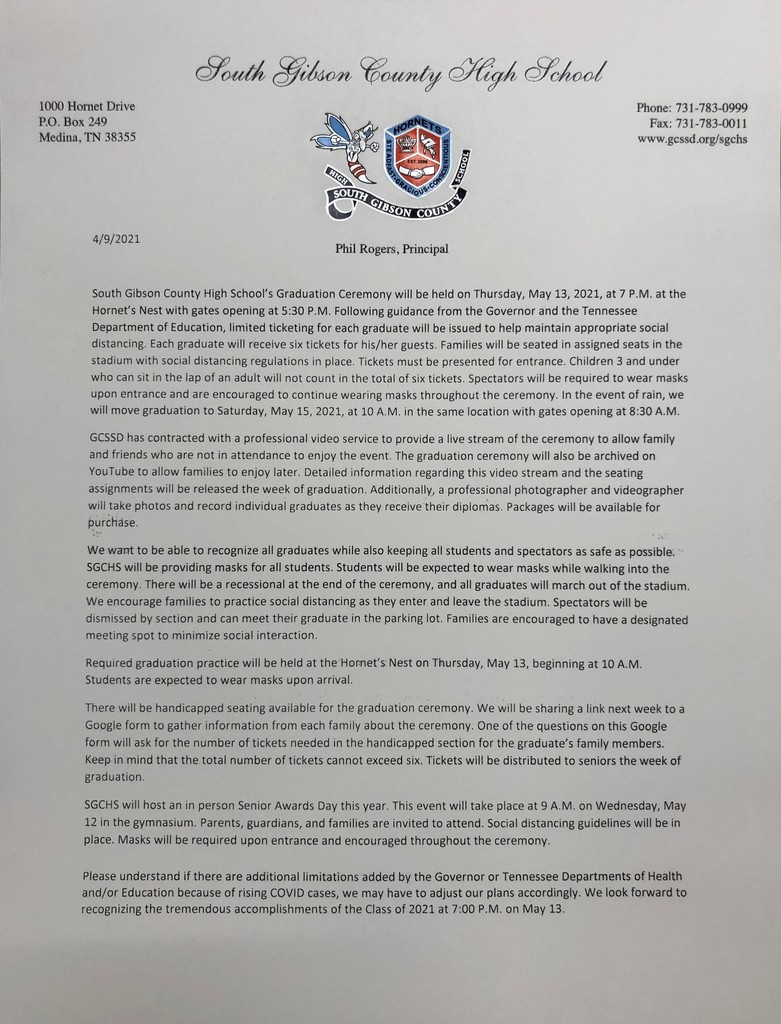 Senior Picture Meeting for Class of 2022 -Thurs., April 22 at 6pm in the SGCHS Cafetorium Plan to attend to obtain important info regarding senior pictures. In order to appear in the yearbook, ALL seniors must be photographed by Holland Studio.

All in-person sophomores met with the Balfour Rep. today and were given class ring packets. If your child is a digital learner, they may come to the school and pick up a class ring packet in the front foyer of the school. The packets will be on the table just outside the office door. The Balfour Rep. will be returning to the school on Thursday, April 15th from 11am – 1 pm to assist students with their class ring orders. Please have your child bring their deposit and order form to school next Thursday. If you have any questions, please contact the main office.
Beta Club invitations were passed out to freshmen eligible to join by first block teachers today (Monday, April 5, 2021). If you received an invitation and would like to join, please make sure you turn in your $25 dues to the teacher specified in your invitation. The money is due back by Monday, April 12, 2021.


All juniors, including Digital Learners, will be taking the ACT at SGCHS on Tuesday, March 16. All students will report to their 1st block class by 7:45am. Once all testing is complete, juniors will be able to leave campus for the day. If students need to borrow a calculator they must sign up by 8am this Friday, March 12. The link to sign up for a calculator is on our social media outlets. Additionally, all juniors must complete the myACT registration prior to Tuesday. If students were absent, digital learner, or quarantined someone will reach out to you regarding this information. If students do not complete the myACT registration by Tuesday they will need to stay after testing to complete this registration. If you have any questions please call the main office.

Picture Schedule Tues.,2/23 11:15-Softball,Baseball,Ambassadors 4:00-Tennis (tennis complex) Thurs.,2/25 11:15-Drama,FBLA,Choir 11:30-Bass Team,Shooting Sports,FFA 3:30-Jazz Band Fri.,2/26 11:15-Mrs. Williams' peer tutors,Track & Field 4th block-Concert Band
Just a reminder that basketball season passes do not include post season games. If you are planning to attend any of the tournament games, you will need to purchase a ticket.

Schools will prepare student lunches tomorrow for pick-up from 11:00am-noon only. Parents are not required to reserve a meal and may pick up anytime during the designated hour. Meal pick-up in Medina will be at SGCHS. Pick up will be at the back of the school at the cafeteria door. The lunch will consist of pizza, tater tots, corn, fruit, and a cookie.

Peer Tutoring Program SGCHS is now offering tutoring sessions for SGCHS students. If you would like to sign up for a session, please complete the link below. Students who previously signed up stating they were interested in attending will need to sign up again specifying which session they would like to attend. Students must sign up at least 24 hours prior to the tutoring session. The tutoring will be led by SGCHS students and will be in the Media Center. If you have any questions, please email Mrs. Harris at
aharris1@gcssd.org
.
https://forms.gle/frXzcNF7czztYFtB9